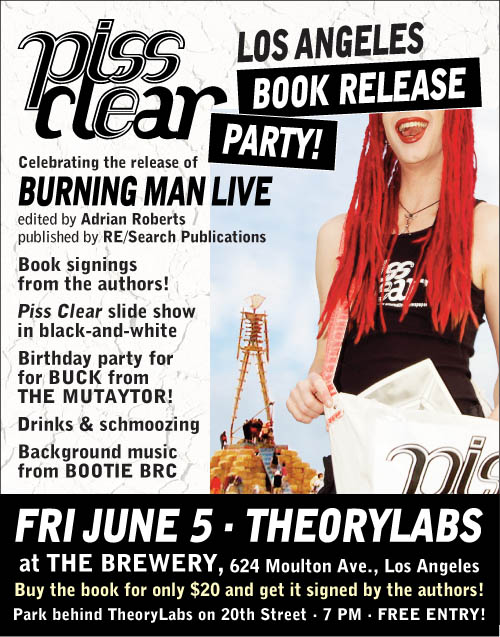 PISS CLEAR LOS ANGELES BOOK RELEASE PARTY!
FRIDAY JUNE 5
THEORYLABS @ THE BREWERY
624 Moulton Ave., Los Angeles . FREE ENTRY!
Party starts at 7 PM. Park behind TheoryLabs on 20th Street.
Buy the book for $20 and get it signed by the authors!
On Friday, June 5th, TheoryLabs at The Brewery helps celebrate the long-awaited release of "Burning Man Live: 13 Years of Piss Clear, Black Rock City's Alternative Newspaper." Published by RE/Search Publications, this jam-packed, 320-page anthology contains all 34 issues of the beloved playa newspaper Piss Clear, which, with its snarky and sarcastic tone -- as well as its acerbic rants, witty commentaries, and funny lists -- earned its reputation as the "Vice magazine of the playa."
• Book signings from the authors!
• Piss Clear slide show in black-and-white -- 13 years of Burning Man history
• Birthday party for BUCK from THE MUTAYTOR!
• Drinks and schmoozing -- hang out with the editors and writers!
• Background music provided by BOOTIE BRC

And remember ... drink enough water so that you piss clear!